"When fascism comes to America, it will be wrapped in the flag and carrying a cross."
Sinclair Lewis from his 1935 novel "It Can't Happen Here"
A recap …
1. Trump says Huma should be jailed; calls DOJ to take action
2. DOJ looking into Hillary's emails, again.
3. FBI Little Rock launches new Clinton Foundation investigation.
4: U.S. Attorney is former Huckabee aide.
Time elapsed … 2 days, 12 hours, 57 minutes.
The GOP isn't even hiding it anymore.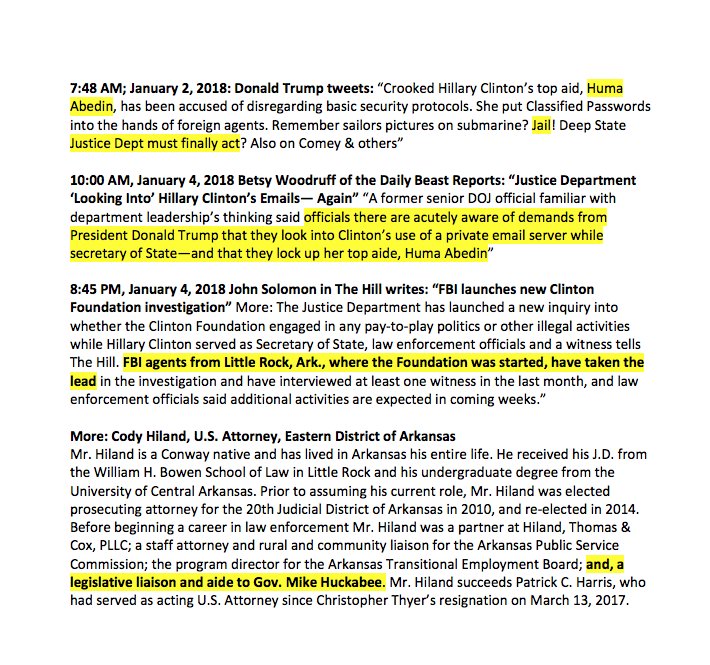 Justice Department 'Looking Into' Hillary Clinton's Emails— Again

Justice Department officials are taking a fresh look at Hillary Clinton's use of a private email server while she served as secretary of State, The Daily Beast has learned.

An ally of Attorney General Jeff Sessions who is familiar with the thinking at the Justice Department's Washington headquarters described it as an effort to gather new details on how Clinton and her aides handled classified material. Officials' questions include how much classified information was sent over Clinton's server … more here
Then we have this …
GOP Senators Target Trump Dossier Author Christopher Steele in Russia Investigation

(WASHINGTON) — Two Republican senators have made the first known criminal referral in congressional investigations of Russian meddling in the 2016 presidential election. They're targeting the author of a dossier of allegations about President Donald Trump's ties to Russia.

Senate Judiciary Committee Chairman Chuck Grassley of Iowa and South Carolina Sen. Lindsey Graham say they've referred former British spy Christopher Steele to the Justice Department for investigation about false statements he may have made about "the distribution of claims contained in the dossier."
These are exactly the tactics Vladimir Putin uses against former political opponents, their families, and staff. They were used in Nazi Germany, Turkey, North Korea and every other banana republic and authoritarian state in the last 100 years.
Time to get woke people. Srsly. Now.
---